A-Level results: Continued success for Barking and Dagenham as number of young people accepted to top universities and employers is on the rise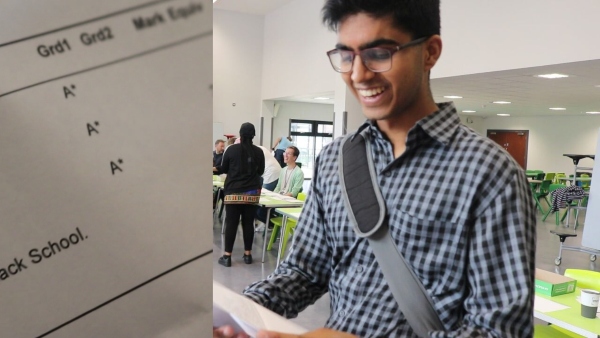 Young people in Barking and Dagenham were jumping for joy this morning as many found out they had been accepted into top universities and companies such as Goldman Sachs.
There was jubilation at Robert Clack School of Science as almost a third of pupils achieved top grades of A* to A, with three pupils securing places at Oxford to study Mathematics, Engineering and Law respectively. Karan Ruparell was in total shock with his three A*s in Maths, Further Maths and Physics and will be off to study a four-year Mathematics degree at Oxford. 
Russell Taylor, Headteacher of Robert Clack commented on the results: "Our students have fulfilled their potential through hard work, dedication and the outstanding support of their teachers.
"I am as always, exceptionally proud of all of them and can only imagine how proud their families must be. I am certain that they will all go on to lead successful and happy lives, and that is what education should be about."
There was elation down at Eastbury Community School, where there was a 100% pass rate with over half of all students achieving A* to B grades, and five students receiving A*/A grades in all their subjects.
David Dickson, Executive Headteacher of Eastbury Community School was delighted with the results achieved by his pupils: "I am extremely proud of the results achieved by our amazing, positive and hardworking students at Eastbury. 
"I am pleased that so many are progressing in their chosen careers. It is wonderful to hear so many success stories about students at Eastbury and across the borough and country. I am absolutely delighted for all those who have worked hard to secure the grades needed for their chosen University, Higher Level and Degree Apprenticeships, or job."
It was a fantastic year at The Warren School as students achieved a record number of A* to A grades, alongside an excellent set of Level Three BTEC results.  It was also a first for the school as Nimra Khan has put herself in the history books by being their first student to be accepted to Oxford University. 
In their first ever A-Level results day, Riverside School achieved a very solid set of results and Headteacher Andrew Roberts was extremely proud of how his pupils had performed. He said: "It is fantastic seeing our students that joined us seven years ago get their first A-Level results, we've had some incredible outcomes with students going on to study Maths, Medicine and Law."
Councillor Evelyn Carpenter, Cabinet Member for Educational Attainment and School Improvement was over the moon with this year's A-level results: "Once again, our young people have shown how talented they really are and I was delighted to find out that so many will be heading off to some of the best universities in the country including Oxford and Cambridge. 
"A-Levels are the steppingstone into higher education, apprenticeships and even very good jobs. I would like to say a huge well done to the students who have worked very hard with their experienced teachers to achieve these fantastic results."
The results show a continued success in Barking and Dagenham where nine in ten schools are rated 'Good' or 'outstanding' by Ofsted.
Watch our highlights video: