Barking and Dagenham Council launches green energy company, Beam Energy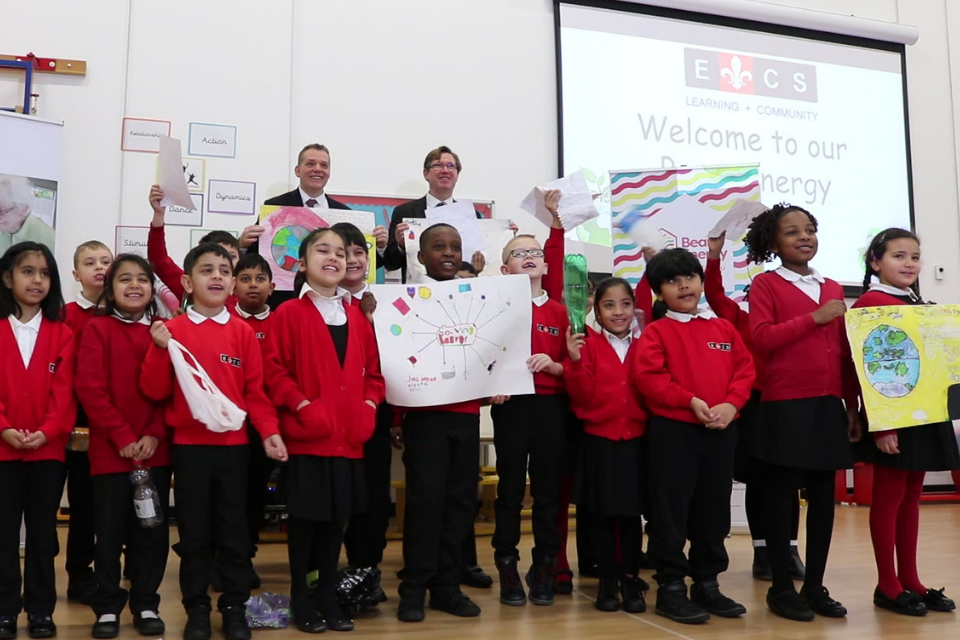 Baking and Dagenham Council has today (Monday 21 January 2019) launched its own greener energy provider, Beam Energy, to help its residents save on their fuel bills. 
All people need to do is get a two-minute quote and switch, for cheaper gas and electricity bills. 
While the 'Big Six' energy companies have been forced to cap their energy prices to help customers deal with spiralling costs, Beam Energy is different because it is not-for-profit, doesn't pay out bonuses to shareholders, and offers great Pay-As-You-Go (PAYG) rates – often used by customers with the tightest budgets. In comparison to the Big Six you could also make an average £91* saving on our most competitive fixed price tariffs.
Leader of the Council, Councillor Darren Rodwell said, "Nobody should pay more than they have to on their fuel bills. For too long prices have been increasing faster than most people can cope with, and we hear horror stories about people going without food and the bare essentials just so they can pay for heating to stay warm. 
The call centres are based in the UK, the number is free to call, and we have some of the best Pay-As-You-Go rates around
"As the winter sets in and London gets colder, I don't want anyone in our community to be in that position. Beam Energy is about fair prices, not bonuses and shareholders getting pay outs. 
"At the local elections last year, we promised to set up an energy company that would help local people with their bills as the cost of living rises. I'm delighted that we've been able to deliver on that pledge so quickly.
"Beam Energy has been designed with our residents in mind – the call centres are based in the UK, the number is free to call, and we have some of the best Pay-As-You-Go rates around – while other energy providers tend to penalise these customers. For these customers, there is the added benefit of being able to top-up via SMS text, phone, online or at any of the PayPoint outlets.
"Switching is always seen as a pain, but it really only does take two minutes to get a quote."
Get a quote in two minutes
Beam Energy is available to customers in Barking and Dagenham, greater London and East Anglia. It offers fair tariffs, and has been created with vulnerable customers in mind – from elderly and disabled residents to people receiving benefits, who might be used to managing a tight weekly income. 
Beam Energy also provides 100% green electricity† from certified UK based solar and wind generators. 
To mark the launch, which coincides with national Energy Saving Week, Leader of the Council, Councillor Darren Rodwell joined pupils from Eastbury School to hear how they would go about making Barking and Dagenham more environmentally friendly.
Tasked with answering the question 'how do we make Barking and Dagenham the green capital of the capital?' pupils presented their ideas to Councillor Rodwell at a special assembly at their school this morning. 
The school is already making greener initiatives as all children have been provided with a reusable water bottle, to reduce the number of plastic water bottles being purchased at lunch.
Anyone who wants to see how much they could save can visit Beam Energy or call freephone 0800 953 4555. If they choose to make the change, Beam Energy will contact their current energy supplier to help them make the switch.
*Based on the cheapest proposed Beam Energy fixed tariff, compared to the mean average of the biggest six energy providers' standard variable tariffs for a medium-use** dual fuel customer, paying by direct debit and receiving paperless billing, living in London, on 7th January 2019. Prices may change. **12,000 kWh of gas consumption and 3,100 kWh of electricity consumption per annum.
†Our green electricity tariffs are certified as being sourced from UK based wind and solar generators. For every Megawatt hour (MWh) of electricity purchased for our customers, we also purchase a Renewable Energy Guarantee of Origin (REGO) certificate, which proves the electricity is certified as being sourced either directly from the renewable generators or through a green wholesale energy provider.