Barking and Dagenham renew commitment to the Armed Forces Community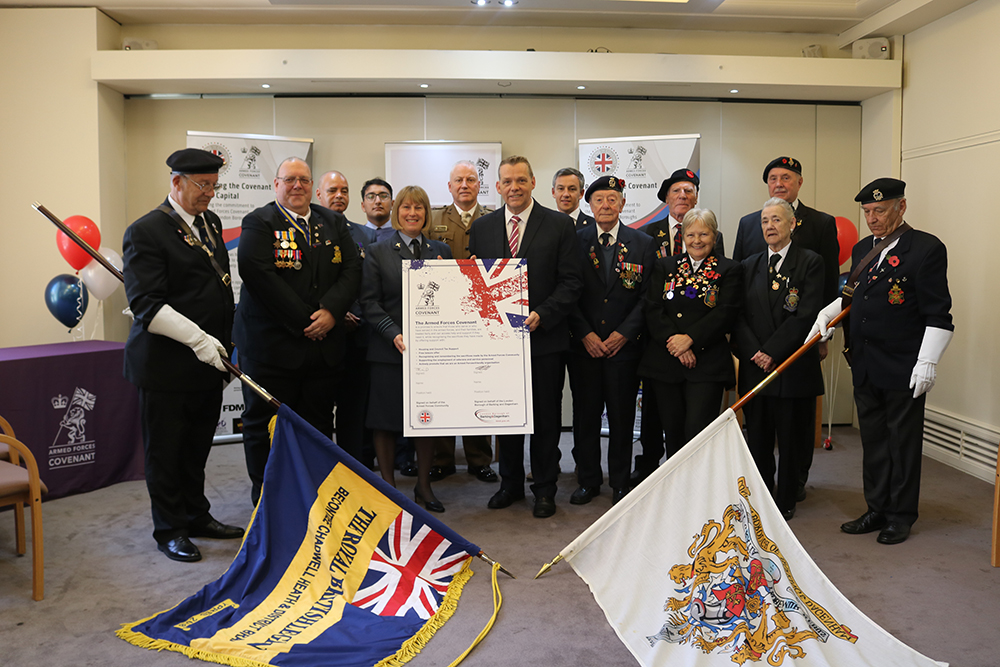 Representatives from the voluntary and charity sector in Barking and Dagenham joined the council in renewing their commitment to the Armed Forces Community by re-signing the Armed Forces Covenant.
 
Leader of the Council, Councillor Darren Rodwell was joined by Wing Commander Judith Hird, representing the Armed Forces, and colleagues from the voluntary and charity sectors in signing the Covenant and reaffirming their support. This reaffirmation is the public display of commitment to a much larger package of work that is going on behind the scenes to support the Armed Forces Community. Even without a resident military unit within the borough, this community still makes up 10% of the population, including the 8th highest percentage of veterans across all London boroughs.
 
Barking and Dagenham are now moving forward in their approach to supporting this community and will be working with the 'Renewing the Covenant in the Capital' project, to train frontline staff, adopting e-learning training packages and spreading the word through departments to review and ensure that their policies cater for the Armed Forces and ensure they face no disadvantage.
We are proud of those in the community who serve or have served in the Armed Forces. Re-signing of the Covenant is our commitment to making sure that we do everything to support those in the Armed Forces Community and their families.
Councillor Saima Ashraf, Deputy Leader and Cabinet Member for Community Leadership and Engagement said: "We are proud of those in the community who serve or have served in the Armed Forces. Re-signing of the Covenant is our commitment to making sure that we do everything to support those in the Armed Forces Community and their families."
 
Neil Usborne, Covenant Project Manager said: "Barking and Dagenham are setting such a good example of how a council can work to bring the Armed Forces Covenant to life, supporting the wider Armed Forces Community with their actions rather than just their words."