Barking and Dagenham teachers win prestigious awards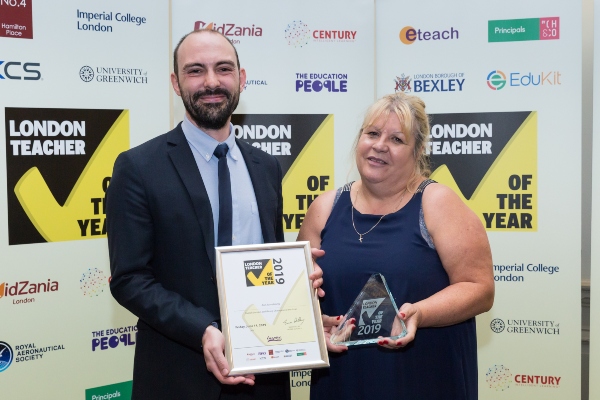 It was cheers all around for the education sector in Barking and Dagenham last week as two teachers were named Teachers of the Year at an annual awards ceremony.
Taking place at the Mayfair headquarters of the Royal Aeronautical Society last Friday, Ann Armstrong of All Saints Catholic School was named Well-being Champion of the Year for both London as a whole and the combined district of Barking and Dagenham and Greenwich. 
Ann was recognised for her continuous hard work to ensure that that pupil's wellbeing is at the highest level and that everything is in place to support students. 
Clare Cantle, Headteacher of All Saints School said: "We and so many of our pupils thank her for all she does. Over the years she has helped vulnerable pupils find their vocations, pick the right courses in Further Education, join positive peer groups and even re-house. 
"Ann is a bastion and role model of resilience and integrity for all in our school as she does her best each day to improve the outcomes and right the wrongs for those in our care."
Also taking first place was Simon Abeledo of Rush Green Primary School, who was named Head or Assistant Head Teacher of the Year for Greenwich and Barking and Dagenham.
The educational charity's chief executive, Simon Dolby, said: "It was a fantastic evening with a very enthusiastic and generous audience of winners and their guests celebrating their own and each others' achievements.
"All of the winners thoroughly deserved their awards. These teachers and support staff really do amazing work expanding the horizons and opportunities of young people across the capital, and the whole of society owes them a huge debt.
Councillor Evelyn Carpenter, Cabinet Member for School Improvement and Educational Attainment added: "I was absolutely delighted when I heard the news that two of our teachers had been named winners. Many congratulations to these inspiring teachers and the warmest of thanks for the hard work they put in on a daily basis to provide the best education for our young people."