Beam Energy celebrates one-year of offering residents an affordable alternative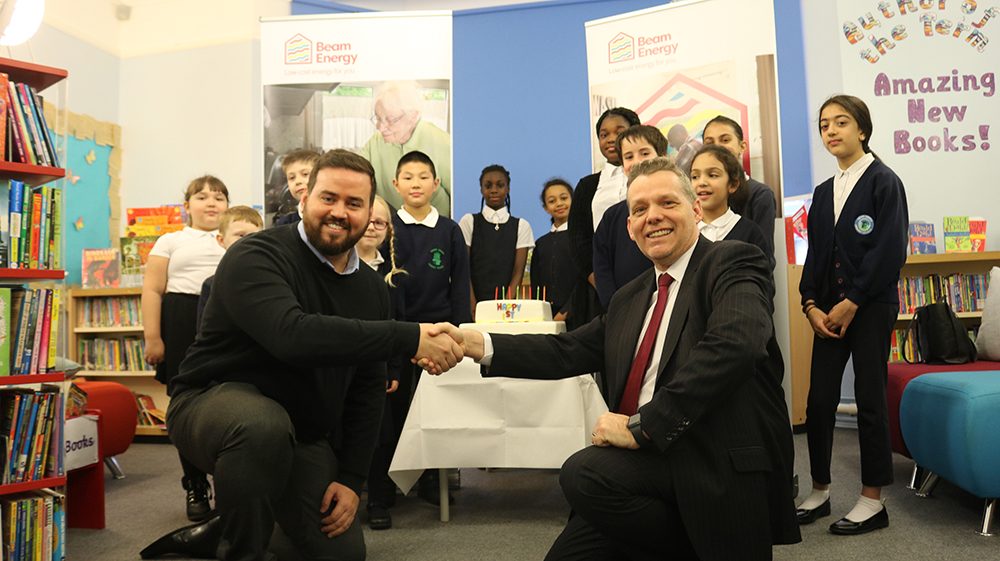 Barking and Dagenham residents could save on average £220* on their fuel bills by switching to Beam Energy's two-year fixed tariff, which is one of the cheapest tariffs the company is offering as it celebrates its first anniversary this week.
Launched by Barking and Dagenham Council last year, the not-for-profit energy provider offers completely green and renewable energy, using electricity generated by wind turbines and solar panels.**
Any profit made by the venture is reinvested into helping fund council services for our most vulnerable residents.
Since its launch in January last year, Beam Energy is now supplying more than 900 meters.
As part of the celebrations, the Leader of Barking and Dagenham Council, Councillor Darren Rodwell, joined pupils at Henry Green Primary School in Dagenham where youngsters were taking part in the 'Big Switch Off', a zero-electricity hour, as part Energy Saving Week.
"These young people are our future and that is why we are supporting measures that help create a cleaner, greener planet."
Councillor Rodwell said: "These young people are our future and that is why we are supporting measures that help create a cleaner, greener planet. Making small changes can soon have a big impact.
"That is why a year ago, we set up Beam Energy. We were never going to overthrow the Big Six, but we wanted to help residents by offering fairer, stable prices that put people, not profit, first.
"Beam Energy's call centre is UK based, it's free to call, offers competitive prices and any profit is reinvested into council services. I'm delighted that a year on, hundreds of people have already taken up the opportunity and started saving."
Matthew Murphy, Headteacher at Henry Green Primary School, said: "It is now more important than ever for our children to be fully educated on ways to be sustainable and truly invested in their futures.  We've developed our curriculum to incorporate sustainability and we promote many initiatives across the school community to reduce our carbon footprint.  
"We are fully supportive of renewable energy and I think the ethos of Beam Energy is excellent – if our community can pay less, with less impact on the environment, then it's a win, win.
As well as birthday celebrations, Beam Energy is also marking the partnership with Basildon Council.
Councillor Gavin Callaghan, Leader of Basildon Council, said: "Basildon Council's partnership with Beam Energy offers real benefits to residents, providing a cost effective, renewable, not-for-profit alternative.
"Simple changes such as switching your energy supplier can make a big difference. This week, in support of Energy Saving Week we hosted advice sessions, run by charity Signpost, to help people find out how they can save money on their energy bills.
"We're encouraging residents to get a quote; it takes less than two minutes and could save you money."
Anyone who wants to see how much they could save can visit the Beam Energy website or call freephone on 0800 953 4555.
*Saving made of £220.56 based on the cheapest proposed Beam 24 Month Saver v4, compared to the mean average of the biggest six energy providers' standard variable tariffs for a medium-use** dual fuel customer, paying by direct debit and receiving paperless billing, in Barking and Dagenham 15/1/20. Prices may change. **12,000 kWh of gas consumption and 3,100 kWh of electricity consumption per annum, inclusive of VAT.
**Our green electricity tariffs are certified as being sourced from UK based wind and solar generators. For every Megawatt hour (MWh) of electricity purchased for our customers, we also purchase a Renewable Energy Guarantee of Origin (REGO) certificate, which proves the electricity is certified as being sourced either directly from the renewable generators or through a green wholesale energy provider.