Becontree Forever Weekender: Everything you need to know about the two days of free music, art and family fun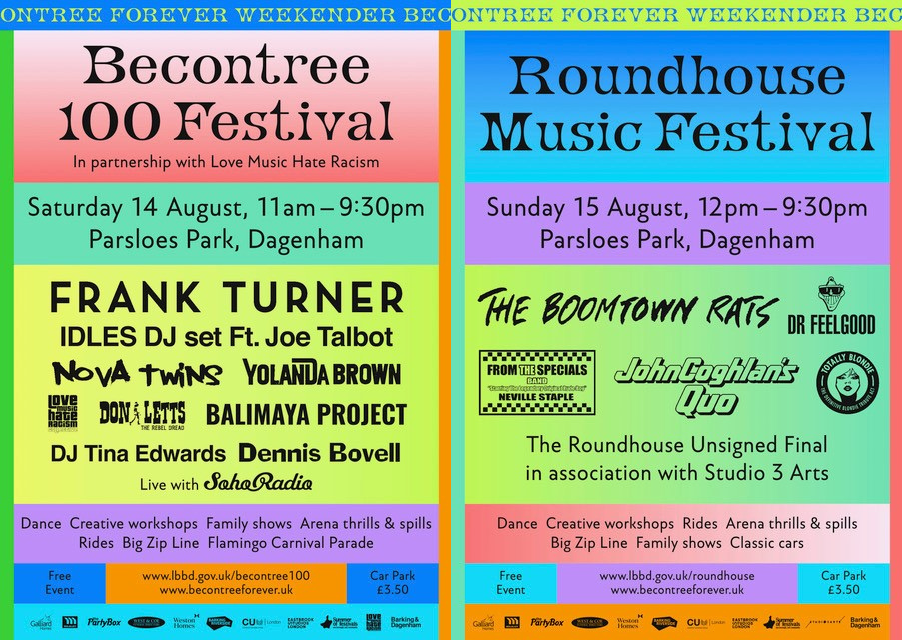 After a year off due to the global pandemic, festivals are back in Barking and Dagenham this weekend, and music lovers and families can enjoy the fun and excitement all for free.
The Becontree Forever Weekender will take place at Parsloes Park, Dagenham, and kicks off with the Becontree 100 Festival on Saturday 14 August, followed by the Roundhouse Music Festival on Sunday 15 August.
There promises to be something to suit everyone over the course of the two days and first up, on Saturday (14 August), music fans will be able to enjoy DJ sets from Tina Edwards, Dennis Bovell, and Donn Letts, as well as performances by the Love Music Hate Racism Collective which will include emcees Consensus, Lloyd Luther, and Birmingham-born Lady Sanity.
Festival goers will also be able to hear MOBO award winner YolanDa Brown, London rock duo the Nova Twins, a DJ set from IDLES frontman Joe Talbot, and headlining performance from singer-songwriter Frank Turner. 
Soho Radio will be live broadcasting throughout the day from the Love Music Hate Racism stage, but even away from the music there promises to still be a whole host of family friendly entertainment to enjoy with monster trucks on display, magicians, fairground rides, craft stalls, dance routines and parades, and even the opportunity to meet CBeebies famous pooch, Hey Duggee. 
It's been a tough year and a half for everyone, so this is an opportunity for us all to get out and enjoy things how they used to be with our friends and family and creating some new memories that will last a lifetime.
The free one-day event, which is part of the Becontree Forever programme of events, is being produced in collaboration with Love Music Hate Racism to promote unity through music and celebrate the centenary of the Becontree – the biggest housing estate in the UK. 
The next day, on Sunday (15 August), gig-goers can enjoy another free day of music and fun with the return of the Roundhouse Music Festival, which this year focuses on rock and ska bands from the 60s and 70s. 
Household names such as The Boomtown Rats with Sir Bob Geldof, Neville Staple from The Specials, Dr Feelgood, and John Coghlan's Quo will take to the stage as well as a host of new musicians, as part of the Roundhouse Unsigned Competition, held in partnership with Studio 3 Arts.
Once again, away from the music there is still plenty to see and do with festivalgoers able to see classic cars and a vintage horse drawn fire engine, as well as enjoy an adrenaline packed quad bike display. 
There will also be a host of workshops, dance performances, and child friendly attractions throughout the day. 
Leader of Barking and Dagenham Council, Councillor Darren Rodwell, said: "We're delighted to continue our tradition of providing free, exciting entertainment right here in Barking and Dagenham.
"We are one borough, one community and whether you're into rap or rock, punk or poetry, or just fancy trying your hand at an art workshop or watching some petrol-fuelled performances, there really is something for everyone over these two days.
"It's been a tough year and a half for everyone, so this is an opportunity for us all to get out and enjoy things how they used to be with our friends and family and creating some new memories that will last a lifetime."
Love Music Hate Racism National Organiser, Alex Losardo said: "Love Music Hate Racism are thrilled to celebrate the achievement of Becontree's 100th year with the vibrant local community by doing what we enjoy most, bringing people together with music.  We have so much more in common than we do different, and nothing demonstrates that better than the music we all listen too. We refuse to accept division, racism, and hate while we continue to absolutely Love Music."
MOBO Award Winner, YolanDa Brown, who is playing at the Becontree 100 Festival said: "East London has been my home since I was born. I went to school, grew up and now live there with my family. It is super special to be playing at the Becontree 100 Festival with Love Music Hate Racism and I am honoured to be sharing my music with such a diverse community, full of love. Finally Barking born YolanDa plays in Barking and Dagenham!"
 
Rock duo, The Nova Twins, who are playing on Saturday said: "We are so proud to be involved with such an amazing community. Giving a voice and a safe space to people like us is so important, in a world that can seem so divided. We must unify and lift each other up, now more than ever. We have played at a previous Love Music Hate Racism event and it did exactly that. It's such an electric atmosphere. We encourage more people to get involved."
Entry to both events is free. Parking is available on site, but attendees are urged to use the tube, where possible, with the Becontree stop on the District Line being the nearest station.
The festivals will take place subject to Covid-19 restrictions and following current government guidelines. People should not attend if they have tested positive for coronavirus, if they have symptoms of the virus, or if they have been told to self-isolate through the NHS track and trace service.
For the full line-up, further information about the two events and Covid-19 guidelines and entry condition information, visit Becontree 100 Festival lbbd.gov.uk/becontree-100-festival or Roundhouse Music Festival lbbd.gov.uk/roundhouse-music-festival.