Council officer cracks two fly tipping cases and slaps resident with £400 fine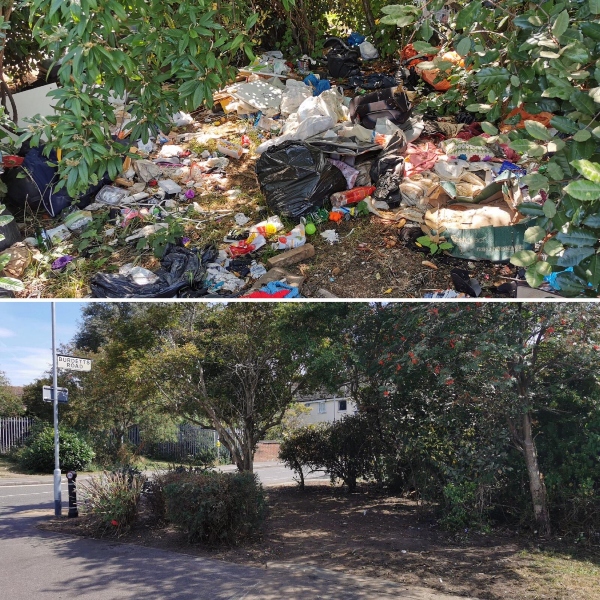 A council officer had a great week as his investigative nature and persistence led to him closing two fly tipping incidents.
Firstly, the officer visited Faircross Avenue, near the junction with Monteagle Avenue where rubbish had been dumped and following an investigation, he came across some evidence that pointed him in the direction of a property.
The officer then headed to the property on Faircross Avenue where he interviewed an individual under caution, who ultimately admitted it was them who had dumped the rubbish. The preparator was then issued with a £400 Fixed Penalty Notice (FPN), which has since been paid.
In addition, he served a Community Protection Notice contrary to s.43 Anti Social Behaviour Crime & Policing Act to the owners of a piece of land on Burdetts Road, Dagenham that had received a number of complaints due to the land being overgrown and heavily fly tipped.
The officer visited the land again later in the week and it had been cleared of all waste and cultivated.
Councillor Margaret Mullane, Cabinet Member for Enforcement and Community Safety was over the moon with the two results and said: "This is great work from the officer, using his initiative he was able to get two fantastic results.
"Fly-tipping is sadly a significant issue in parts of the borough and we will keep focused on tackling it. Working together with residents, we will catch those who keep dumping rubbish around our borough. Our message is clear to those who fly tip: Don't Be A Tosser. We will catch you, and we will fine you"
Residents can report fly tipping incidents by visiting www.lbbd.gov.uk/report-fly-tipping.