Dagenham schools bag Mayor of London awards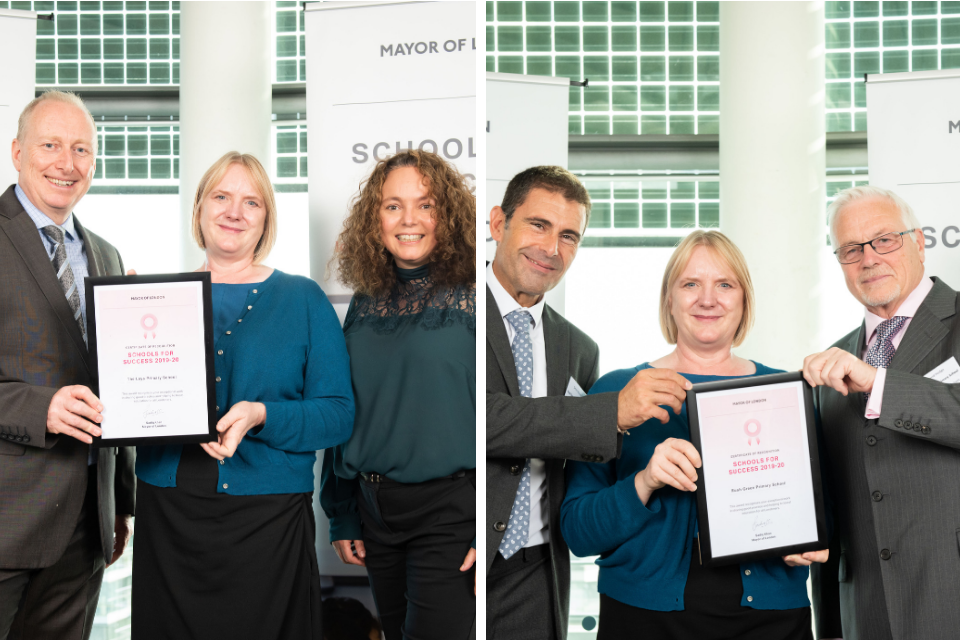 The work of two schools in Barking and Dagenham have received a top accolade from the Mayor of London. 
Leys Primary School and Rush Green Primary School in Dagenham were honoured for their work to reduce educational inequality and achieve exceptional results for children who were previously behind in their studies. 
Both schools received the award from deputy Mayor for Education and Childcare, Joanne McCartney at a Schools for Success awards ceremony at City Hall on Friday 27 September for outstanding pupil progress and embedding a culture of resilience and aspiration among students. 
Richard Gough, Deputy Headteacher of Leys Primary said: "It was an honour for our school to be recognised at this prestigious event. The award is testament to all of our staff's hard work, our pupil's resilience and our community's growing aspirational mindset. We are all very proud."
Simon Abeledo, Headteacher of Rush Green Primary added: "This award makes us all very proud that we can make such a significant difference to children's lives. I am proud of the children and proud of the staff – particularly so when, in real terms, school budgets have been so drastically cut."  
The Schools of Success programme was created by the Mayor of London in 2017 to improve the support given to children from disadvantaged backgrounds. 
Only six per cent of schools in London qualified for the programme. 
The Mayor of London, Sadiq Khan, said: "I'd like to congratulate the staff of Leys Primary School for their excellent work. 
"Schools for Success was created to celebrate the difference that teachers, teaching assistants, support staff and governors are making every day to support children and reduce inequalities, and this school's inclusive and supportive learning environment is a great example of this. 
"London has the best schools and teachers in the country, and by working together we can make sure that no young Londoner is left behind."
Councillor Evelyn Carpenter, Cabinet Member for Educational Attainment and School Improvement, congratulated both schools on their success.
Cllr Carpenter said: "Well done to everyone connected at both schools – from the teachers to the students, each and every one has shown their dedication to improve and this recognition is confirmation of that." 
Nine out of ten schools in Barking and Dagenham are rated good to outstanding.