December issue of Write On! magazine to feature Queen of Crime fiction, Martina Cole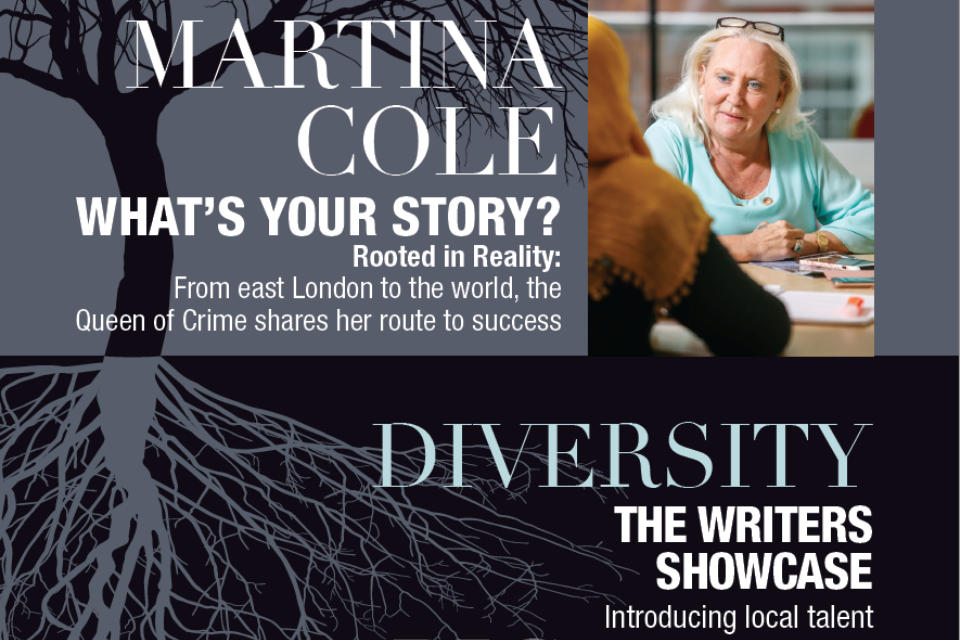 The next issue of Write On! magazine is launching on 10 December. This issue explores the theme of 'On Roots and Routes', featuring an exclusive interview with the Queen of Crime fiction, Martina Cole who explains how her roots in east London have defined her stellar writing journey. 
Martina is the Patron of publishers Pen to Print and was interviewed by local author Farzana Hakim who shared that: "I know she's the Queen of Crime fiction, but I think she's also a Queen of Hearts. She was so down to earth and was full of smiles all through our interview. Really inspirational!" 
As well as being a forum for creativity, Write On! engages local writers in local stories and community issues. With 10,000 free copies in circulation and available in Barking and Dagenham libraries and community-based locations, Write On! is a connection point, allowing stories, interviews and creative writing to mainstream into a wider network of decision making and engagement. Write On! is also freely available from libraries in Newham, Redbridge, and Southend and can also be picked up in other selected venues including The Turner Contemporary in Margate. All Write On! issues for free online at https://pentoprint.org/product-category/magazine/.
This next issue offers advertising and communications opportunities for organisations wishing to communicate locally as well as writing, editing and publishing support services.
I am always excited on the release of a new Write On! magazine issue. The publication is a real opportunity for aspiring writers in the community to showcase their inspiring work to a wider audience.
It is written by local writers, for other writers, with the ethos of working with writers collaboratively, to produce relevant content aiming to support and encourage people from diverse and less privileged backgrounds, to enter the world of publishing. Write On! has a digital showcase, for features or creative writing and is actively looking for submissions. Published on their site pentoprint.org, online contributions come from local writers but also encompass the writing community from across the world.
Cllr Saima Ashraf, Deputy Leader and Cabinet Member for Community Leadership and Engagement, and Chair of the Pen to Print Advisory Panel says: "I am always excited on the release of a new Write On! magazine issue. The publication is a real opportunity for aspiring writers in the community to showcase their inspiring work to a wider audience."