Frank Bruno Foundation announces new mental health and wellbeing headquarters in Barking & Dagenham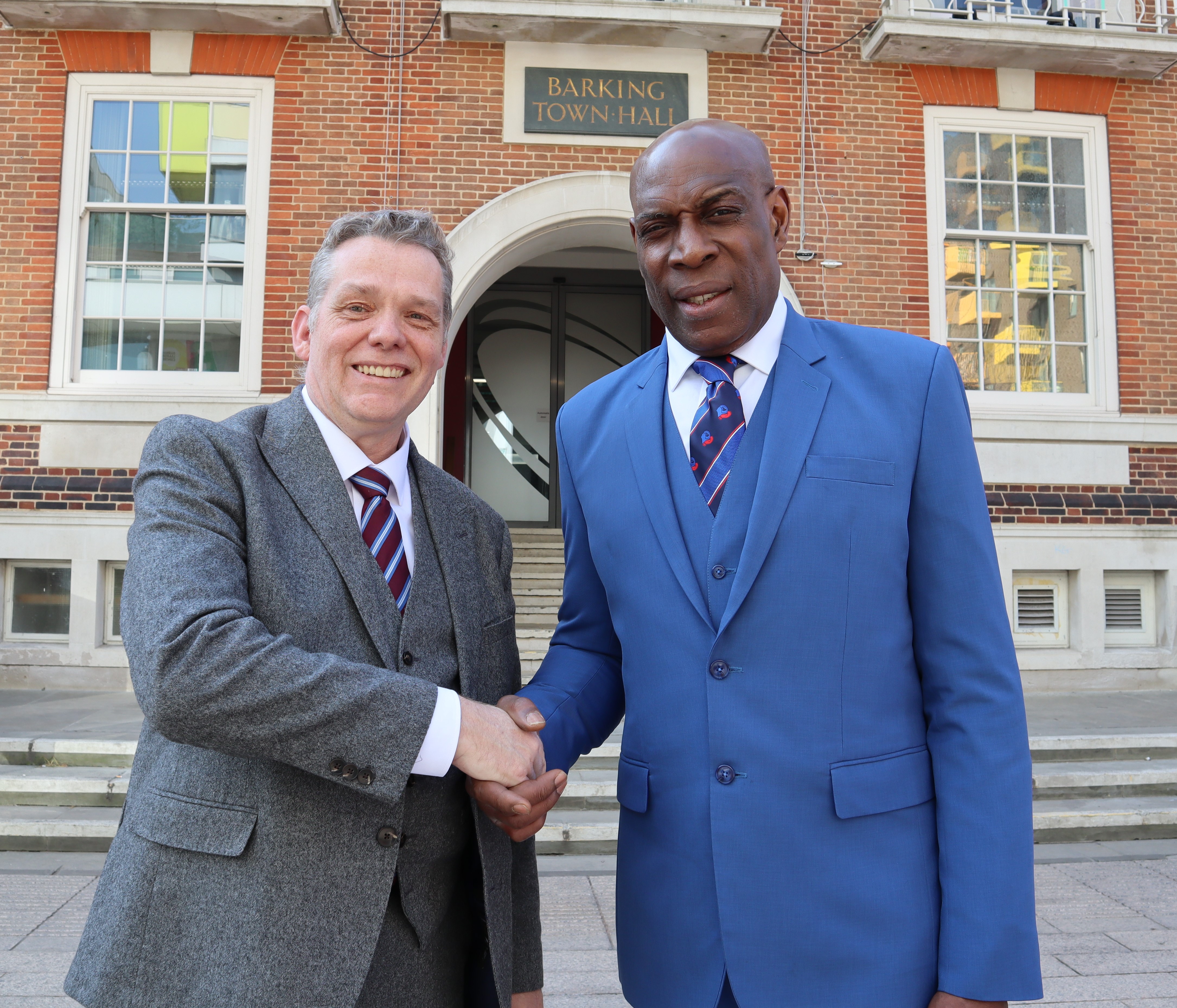 Boxing legend Frank Bruno MBE has today announced an exciting new UK headquarters for his mental health and wellbeing foundation in the East London Borough of Barking and Dagenham. 
 
Once a resident of the borough, the new wellness hub marks a major personal milestone for the Frank, as well as for the growth of the Foundation as it looks to work closely with Barking and Dagenham to provide vital support for residents. 
 
The Frank Bruno Foundation was formed in 2017 by the former world heavyweight champion to give back to the community and in response to the challenges he faced both in and out of the ring. Its first facility opened in Northampton last year and through its wide range of programmes it has already provided mental and wellbeing support to around 1,300 people. 
The Foundation has a satellite centre in Towcester which is being refitted to deal with the overspill and demand from Northampton. It is also developing and converting a building in Oxford for a new centre to be opened in early summer. 
Frank is a British icon and someone who I have admired for years, not only for his championship skills in the ring, but also for his openness talking about his own mental health struggles.
Frank Bruno MBE said: 
 
"I faced some of the toughest boxers of all time in the ring. But my biggest challenge was facing up to my own mental health issues.

"What helped me the most was the simple things – like getting a bit of exercise through non-contact boxing and, of course, talking – to my family, my friends, and the medical professionals who did so much to help me.
"Now I want to help others with their own struggles, and that's why I'm so proud to announce the new headquarters of the Frank Bruno Foundation in Barking and Dagenham, a place that means so much to me personally as a former resident."
The centre will provide a range of wellness services, from non-contact boxing programmes to more holistic support covering many other aspects of people's lives that may have been affected by their mental health, such as housing, benefits, debt and addiction. 
 
Other programmes help professionals who may be struggling with mental health difficulties to stay in work and prevent long-term sickness. These look to increase self-confidence, improve self-regulation, develop self-worth and social skills, and generally increase mental wellbeing.
 
The new facility will aim to accommodate around 15,000 people per year and become a vital service for local residents in a borough where an estimated one person in 15 suffers from depression as a long-term illness and one in 80 suffers from serious mental illness. 

The Foundation is working closely with Barking and Dagenham Council on the move.
Leader of the Council and supporter of the Foundation, Cllr Darren Rodwell, said: 
 
"Frank is a British icon and someone who I have admired for years, not only for his championship skills in the ring, but also for his openness talking about his own mental health struggles.
 
"Frank is a former resident of the borough, living in Chadwell Heath during his early boxing days. My sister used to deliver newspapers to his house and I have fond memories of seeing him out running and training, and he has a rich history with the local community. So, when I found out Frank had set up the Frank Bruno Foundation I knew we had to set up a home for one of his hubs and bring his fantastic organisation into Barking and Dagenham."
 
More broadly across the UK, the Foundation estimates that one in every four people will be affected by mental ill-health at one point in their lives. The Covid-19 pandemic and the isolation associated with it has led to a dramatic rise in reports of mental health issues in the UK. 
 
A 2021 survey of children and young people's mental health found that 17.4 per cent of children aged between six and 16 had a  probable mental disorder in 2021, up from 11.6 per cent in 2017. However, research from the Office for National Statistics also found that more than one third, or 36 per cent, of common mental health disorders go undiagnosed, so such numbers could, in fact, be larger still.
 
More recent data from NHS digital reveals that the National Health Service is struggling to meet this growing demand. According to centralised data, there were 4.3 million referrals for conditions like anxiety and depression in 2021, with more than one million of those for children and young people. However, of these, an estimated 1.4 million people are still waiting for treatment.
 
Nick Smith, CEO of the Frank Bruno Foundation, said:
 
"Unfortunately, there is still a perception of stigma and discrimination surrounding people with mental health problems. Anyone can be affected by mental health issues, but the problem is many people feel they cannot talk about it. They feel ashamed and isolated, and struggle to get on with their daily lives.
 
"The services offered by the Frank Bruno Foundation aim to build on the strengths our participants already have and help them use the new skills they learn on the programme to develop a happier, more fulfilling and successful future."
 
The Foundation will operate the entire mental health and wellbeing centre - and more details about the site will be revealed later this year. 
 
David Davies, Frank's agent,  Chairman & Trustee of the Foundation, said:
"Mental Health issues are becoming a massive problem in the UK. We are finding that our services and courses are  helping in a small way to combat a burgeoning problem. We are unique in what we currently offer.  
"We are getting referrals from GPs, the NHS, and mental health charities who cannot provide resources or accommodate the growth in mental health issues. We are delighted  that  Barking and Dagenham Council has recognised the work the Foundation does and is taking the initiative to try to help those with mental health issues in the area. We just wish more councils had a similar understanding."
The initiative has also been supported by LDN Collective, a network of 50 built environment experts and creatives working to improve people's lives through social impact, sustainability, construction, architecture, engineering, graphic design and film making. 

Max Farrell, Founder and CEO of LDN Collective, said:
"We are delighted to be continuing our partnership with the Frank Bruno Foundation, having previously collaborated on the #ParkPower project where we crowdsourced opinions about London's green spaces to create a positive vision of the future.
"At the time, Frank Bruno mentioned he would love to have a Round by Round centre in East London where he grew up, so I introduced him to Darren Rodwell and we have been on a mission to make it happen ever since.
"The LDN Collective has provided architectural services, communications strategy and a social impact framework free of charge to support our charity partner on this project, and we look forward to unveiling plans in the near future."