GCSE Results Day 2019: Three in five pupils achieve national standard and teen secures place at prestigious college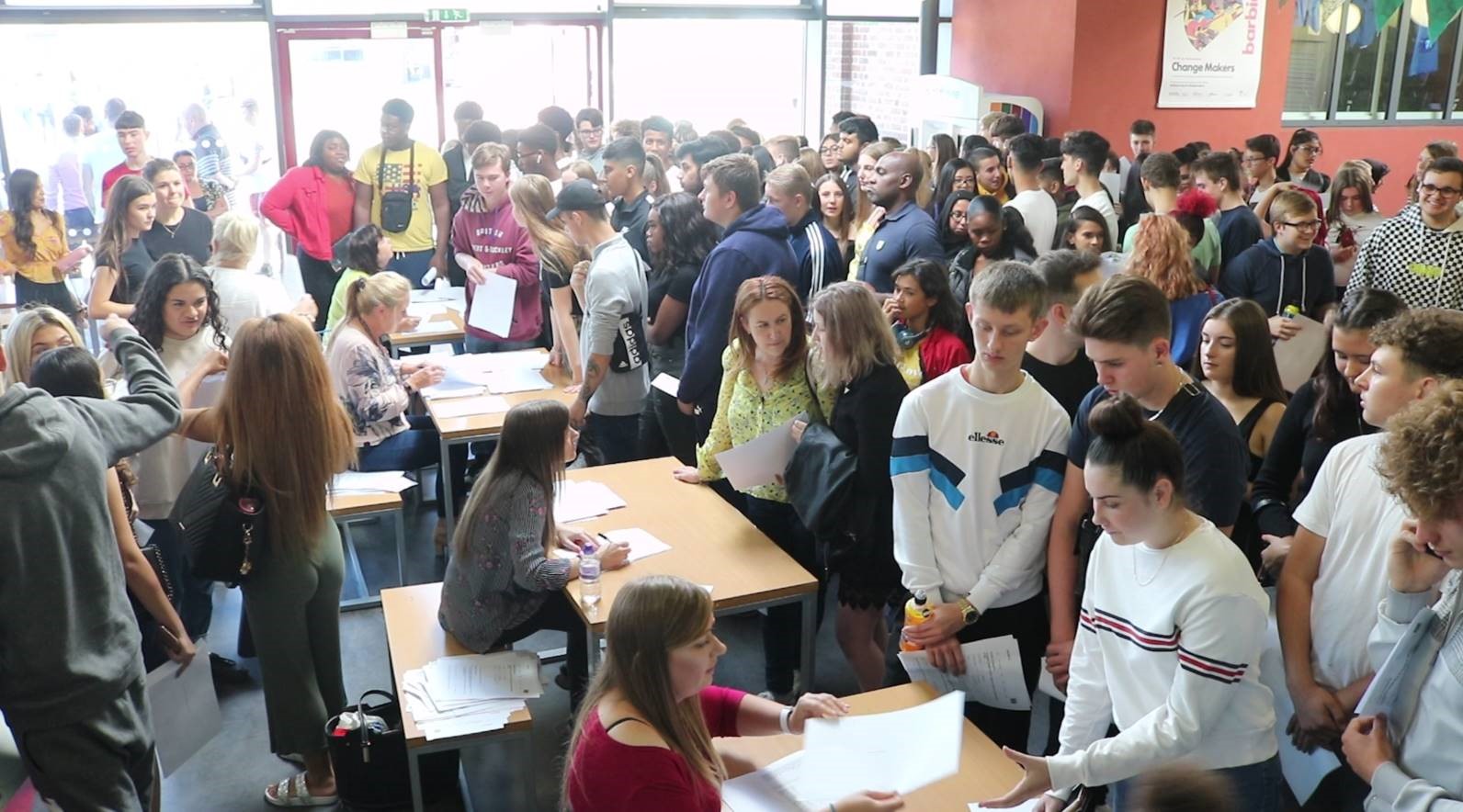 Three in five students (62 per cent) in Barking and Dagenham have achieved the national GCSE standard of a grade 9 to 4 in English and maths – with one student securing a scholarship to one of the world's most prestigious colleges.
Sydney Russell School pupil Afzal Hussain, 16, delivered one of the country's top performances as he achieved nine grade 9s and one grade 8 in his exams.
He will go on to study double maths, history and German at the 15th-century college, whose alumni include Prime Minister Boris Johnson and author George Orwell.
Afzal's success was one of many across the borough, as more pupils achieved top grades of 9 to 7 in English and maths than in 2018.
This was the second year since traditional A* to G grades were replaced by numerical grades of 9 to 1 for the main subjects. A grade 4 is roughly equivalent to the old C grade.
Councillor Evelyn Carpenter, Cabinet Member for Educational Attainment and School Improvement, said: "This really is one of my favourite days of the year and it is wonderful to see the look on youngsters' faces as they get the results of their hard work and dedication.
"I'm really proud of how aspirational our young people have become and I'd like to thank all our teachers, parents and young people for the part they have played in today's success and I wish them all the best for the future, whatever they choose to do."
There were further celebrations at Sydney Russell School, where 65 per cent of pupils achieved a grade 9 to 4 in English and maths, as 16-year-old Brandon Scott, got seven grade 9s and two grade 8s, and Kavirang Biswas, 16, picked up six grade 9s and three grade 8s.
Proud of how aspirational our young people have become
Sydney Russell School principal Janis Davies said: "It has been a brilliant year and I'd like to congratulate all our pupils on their outstanding success."
The total number of pupils across the borough achieving a grade 9 to 5 in English and maths, which is seen as a strong pass equal to an old A* to B/C grade, has increased by 2.5 per cent on last year's figure, rising to 43 per cent.
A quarter of all students at Eastbury Community School picked up a top grade between 9 and 7 in English. Pupil Hemisha Talajia, 16, picked up eight grade 9s and one grade 8 in her exams and Farjana Enayathulla, 16, received seven grade 9s and one grade 8.
David Dickson, executive head teacher at Eastbury Community School, said he was delighted students had "risen to the challenges of the harder exams".
He added: "Some of our pupils have faced significant personal challenges, overcome them, and made superb progress and are now on their chosen career path."
Barking Abbey celebrated two in every three pupils achieving a grade 9 to 4 in English and maths and pupil Morgan Banham Wright, 16, was left speechless as he found out he has achieved ten grade 9s, two grade 8s and a grade 5 in the exams.
Elsewhere in the borough, Riverside Secondary School and All Saints Catholic School both celebrated nine in every 10 of their students getting a grade 9 to 4 in English.
A quarter of all students at Jo Richardson Community School achieved top marks of grade 9 to 7 in maths and three in every five pupils at Robert Clack scored a grade 9 to 4 in English and maths, with nine students attaining straight 9 to 7 grades across all subjects.