New RESPECT artwork revealed at primary school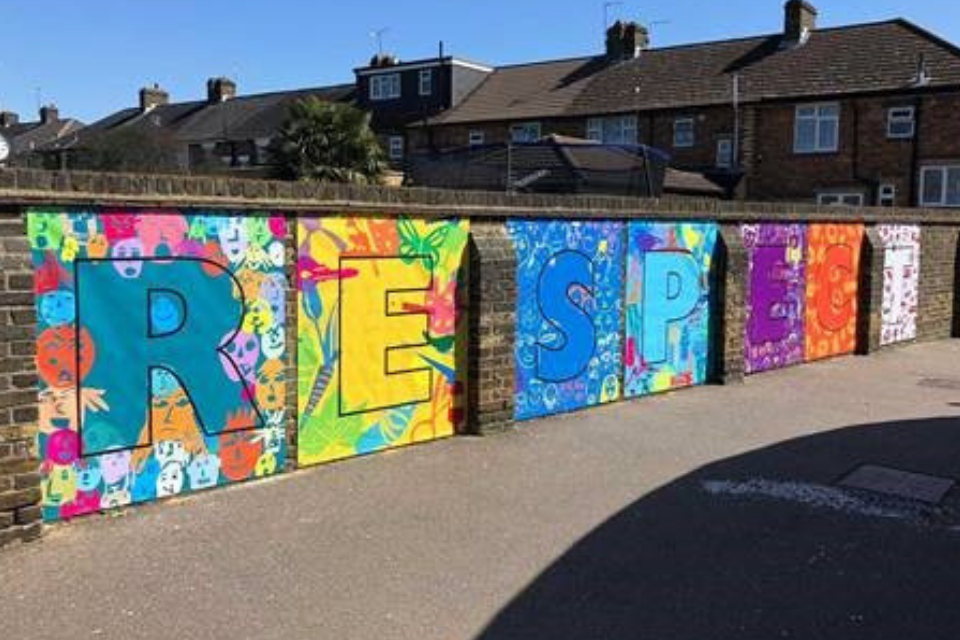 Children from Becontree Primary School returned to school last week to be greeted by some new, vibrant artwork thanks to the Bow Arts Trust working in partnership with the school's Cultural Team Lead, Mantee Doogan.
From the onset, the School Council were deeply involved in the decision process about what the new artwork should look like and where it should be placed. After many discussions with their classes, the council decided that the new artwork should spell the word 'RESPECT' as that is part of the current school motto of 'Respecting one another.'
It was also decided that the new artwork would be placed in the school playground by the main school gates to remind everyone who walked past about how to treat each person they come across every day.
Groups of children from Years 1 to 6 then worked closely with Lea Jagendorf, a Bow Arts educator, through several workshops to create simple images that conveyed the meaning of 'respect'.
 The children achieved this by drawing, tracing and cutting shapes and then putting them together to create an object or an emotion. The students also cut out smaller shapes to help add details to their pictures. 
 Marie Ziane, Headteacher of Becontree Primary School, said "All children and parents involved in the process enjoyed the activities and are really proud of their contributions to the finished product. It's been wonderful watching children showing parents/carers their own work on the banners as they arrive at school. We can't wait to plan our next project with Bow Arts for next year!"
On their return to school, the children loved the artwork. Sumaya from Year 1 said: "The banners are wonderful and very colourful." "I like the banners because they are bright and are decorated so nicely. The word RESPECT on the banners reminds me of what I need to do every day." added Rizwaan of Year 6.
Councillor Evelyn Carpenter, Cabinet Member for Educational Attainment and School Improvement said: "The new artwork at Becontree Primary School is beautiful.  Lea Jagendorf and the children have done an amazing job. 
"Ensuring that we respect each other every day is extremely important, and I am proud that the students decided this is what they wanted the artwork to represent. Well done to all involved."