Olympic legend opened new 50m pool at Becontree Heath Leisure Centre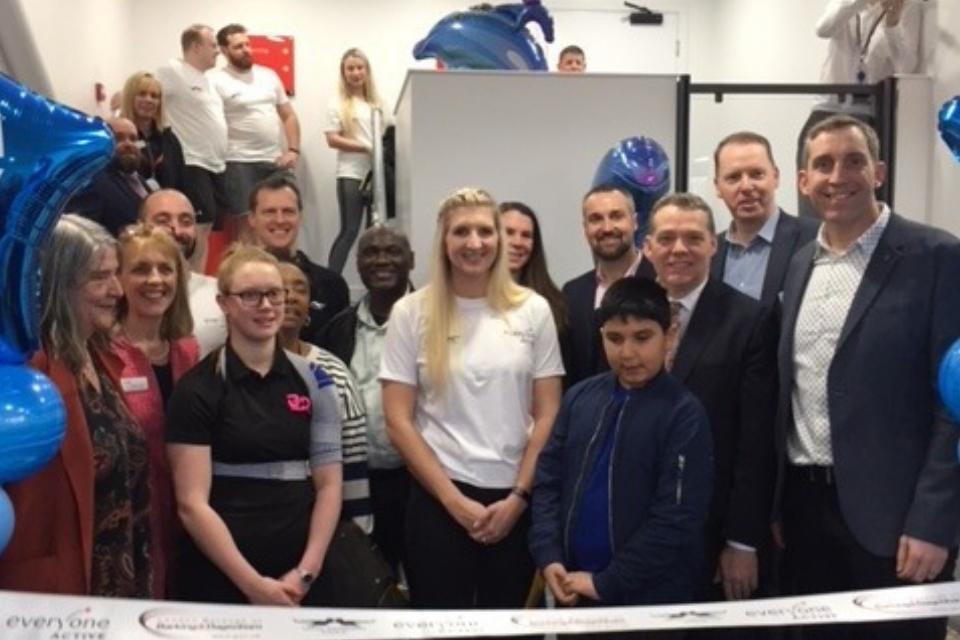 On Saturday Olympic champion Rebecca Adlington along with a host of aquatic Olympic heroes kicked off the launch event of the new 50m Olympic length pool at Becontree Heath Leisure Centre.
Adlington, who won two gold medals at the Beijing Olympic Games, was joined by Olympic medallists Joanne Jackson and Steve Parry, Commonwealth Champion James Goddard and Olympians Grant Turner and Craig Figes.
Hordes of residents came along throughout the weekend to meet their Olympic hero's and try out the new pool. There were also loads of free activities throughout the rest of the centre which included group exercise classes, family swim with inflatables and fitness challenges.
Local students from Marks Gate School also took part in a competition to design to large scale pieces of artwork that are displayed around the side of the pool. Winners Lionel Ornias and Rajdeep Johal not only got to be the first to see their work on display they were also the first to jump into the pool with Rebecca Adlington.
First pool of its kind in the world
The design and build of the pool will make it a first not just in the UK but in the World as the modular format is steel lined and created above ground level, making installation faster and more cost-effective.
The inclusion of the new pool will provide more spaces on Everyone Active's award-winning swimming lesson programme, and local swimming clubs will be able to develop due to the new longer pool.
Darren Rodwell, Leader of Barking and Dagenham Council said: "Our new 50m pool at Becontree Heath Leisure Centre is a first for the borough and, other than the London Aquatics Centre, it's the only Olympic length swimming pool in East London. The council promised to invest in leisure services for local residents and I'm delighted to see the facility up and running.
"We're also really pleased that the pool will be heated by a brand-new energy centre managed by the council's own Energy Services company, B&D Energy Limited, which will also supply low carbon heat to new homes in the area through its District Heating Network."
The new pool will help our residents get more active
Cllr Maureen Worby, Cabinet Member for Social Care and Health Integration said: "The health and wellbeing of our residents is a key priority for Barking and Dagenham council.
"The new pool at Becontree will help our residents to get more active by providing more time for the public to go swimming and offering more swimming lessons to children and young people in the borough.
"It will also make a big difference for local swimming clubs in the area, giving them better training facilities and making Barking and Dagenham a venue for local and regional swimming galas".
For more information visit Everyone Active's website.
Image gallery , showing 0 of 0