School bags Gold for sports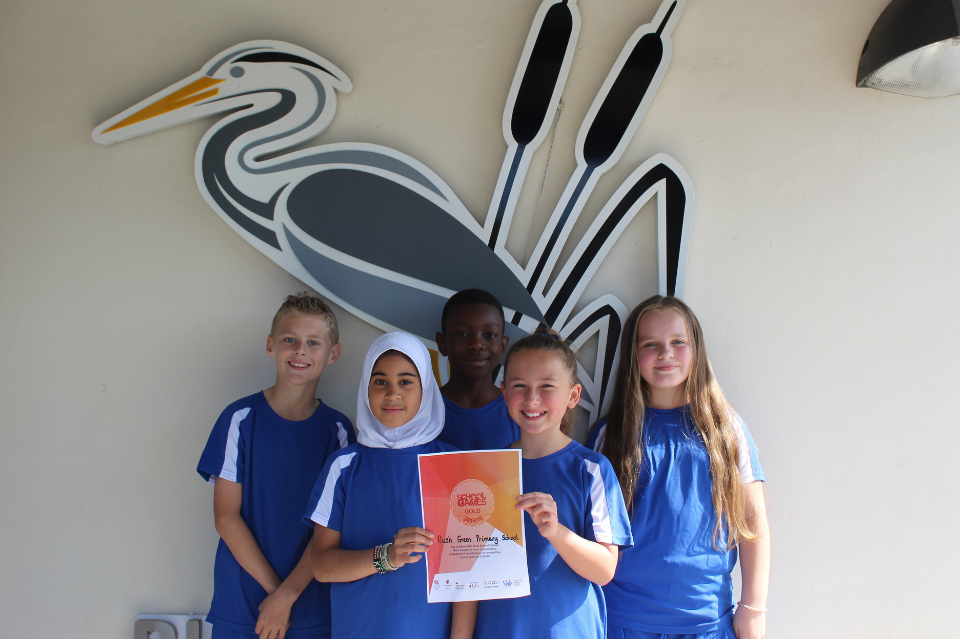 Rush Green Primary School has been awarded the School Games Gold Award for the work they did during the 2018/19 academic year.
Launched in 2012, the Government-led award scheme, facilitated by the Youth Sport Trust, rewards schools for their commitment to the development of competition across their school and in the community.
Last year, the P.E. curriculum had a dramatic overhaul to improve the standards of sport in the school, with all staff members taking part in extensive training in a range of disciplines. As a result of this, pupils will now be able to develop a high level of skill during their two hours of P.E. teaching every week.
Simon Abeledo, Head Teacher of Rush Green Primary School said: "Staff have worked really hard to improve our PE offer over the last two years and it is wonderful that they and the children have been recognised in this award. 
"We believe that lots of lifelong lessons can be learned through sport and so we encourage all of our children to have a go. It doesn't matter whether they win or lose, there is plenty of time for that if they later choose a sport that they want to be serious about. 
"What we believe is important is that our children enjoy playing sport, work together as a team, enjoy being outside and try things that they've never tried before."
The school now offers a range of different sports including fencing and last year, welcomed Steve Frew, Commonwealth Gold medallist in Gymnastics and Joe Ikhimwin, British Basketball Star to demonstrate their skills to the children.
As well as this, the school continues to have on-going partnerships with a number of providers including West Ham Primary stars and West Ham Ladies who run workshops, training sessions and more. 
Councillor Evelyn Carpenter, Cabinet Member for School Improvement and Educational Attainment said: "I am thrilled that Rush Green Primary School have been awarded this honour and that all their hard work over the last year has paid off.
"Sport should be a big part of every child's life as it not only keeps them active and healthy but also builds social skills and confidence. I would like to congratulate the staff and pupils at the school for their excellent efforts."
In a school recent survey, 100% of children said they enjoyed sport at the school.