Strengthening the voluntary, community and social enterprise sector in Barking and Dagenham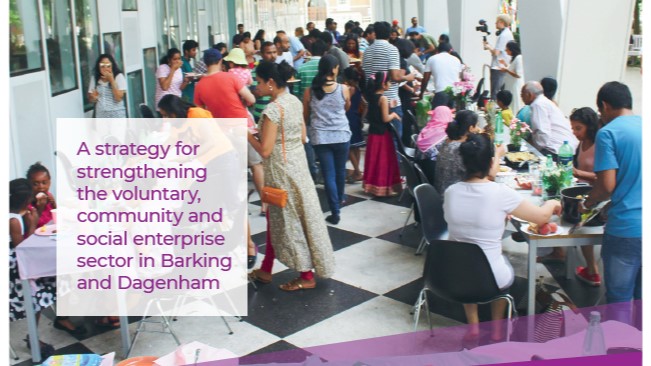 A new support offer to help strengthen the voluntary, community and social enterprise sector (VCSE) in Barking and Dagenham is set to launch today.
Dagenham-based Community Resources, will set up and facilitate the Barking and Dagenham Collective - a board of 10 local VCSE chief executives, including Studio3Arts, DABD, LifeLine, Participatory City Foundation, Excel Women's Association, Barking Enterprise Centre and Barking and Dagenham Carers. Each Board member will own one of the 10 borough manifesto themes, ensuring a joined-up approach, linking practice with policy, developing good practice models to strengthen the sector. 
The Collective will work to help the borough achieve its goals of its 'Participation and Partnerships Strategy' for the voluntary, community and social enterprise sector. The Participation and Partnerships Strategy champions a healthy, independent and influential VCSE working for the benefit of all our communities. Our vision for a strong VCSE means there are many ways in which individuals' ideas, projects and concerns can develop, flourish and be addressed. 
It will mean a network of local organisations shaping and delivering essential services and support, helping people to grow and seize opportunities; and building a better future for everyone.
The new provider, assisted by the Collective, will lead the sector to stimulate new opportunities for the borough through increasing capacity and collaboration around commissioned services, including increased participation and volunteering. 
It will develop, in conjunction with the council and partners, a vibrant local giving model. This means helping to set up a strong governance model, engaging business to give more locally and finding a home in the community for initiatives like crowdfunding, the local lottery and the Neighbourhood Community Infrastructure Levy (NCIL) programmes.
 A strong VCSE sector is central to this approach, from small community groups running street parties, to online and faith communities, as well as large borough-based and national charities, they all have an essential role to play. The Barking and Dagenham Collective is an exciting new collaboration and am I confident it will open new horizons and opportunities for the borough and its residents.
Cllr Saima Ashraf, Deputy Leader and Cabinet Member for Community Leadership and Engagement, said: "At the heart of everything we do, is providing the community the tools and the support to be more independent and to fulfil their potential. 
"A strong VCSE sector is central to this approach, from small community groups running street parties, to online and faith communities, as well as large borough-based and national charities, they all have an essential role to play. The Barking and Dagenham Collective is an exciting new collaboration and am I confident it will open new horizons and opportunities for the borough and its residents."
Avril McIntyre, CEO of Community Resources said: "The Collective will build on the amazing work already being achieved through community groups and residents across the borough. We are ambitious for more and our focus will be on stronger relationships and greater collaboration. Community Resources is delighted to be the secretariat bringing together a hugely talented group of people to deliver on our ambitions for residents."