The past meets the present – ex Sydney Russell pupils return to the classroom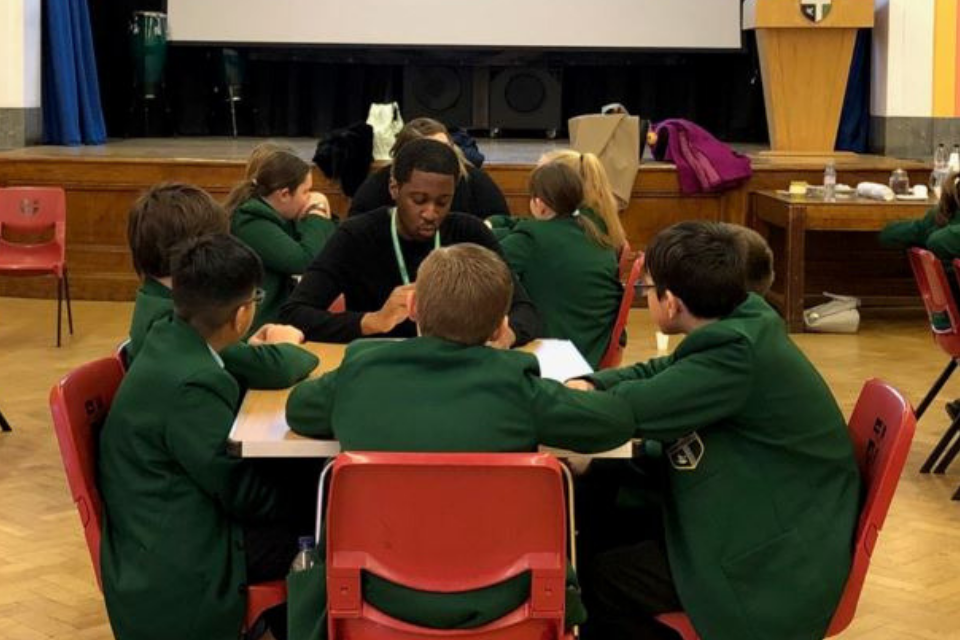 Students from Sydney Russell School enjoyed a day of learning about the future last week as former pupils returned to the school for a visit.
The first of many Alumni workshops welcomed back six former pupils who have gone on to have successful careers in a variety of fields including two business owners, an IT engineer, civil servant, trainee primary school teacher and a lawyer.
The former pupils joined up with a group of Year 7 pupils to help them build confidence by celebrating their skills and strengths.
Former student Emily said: "I think it's important to have an awareness of your skills set, so that you can celebrate what you've achieved.  Through working with these incredible Year 7s, I've been able to reflect on my own skills."
The Skills and Strengths workshop included a team work activity that involved building a bridge out of old newspapers, a discussion around the statement 'It's good if you don't do something right' and a Q&A session about mistakes, failures and solutions. 
Janis Davies, Headteacher of Sydney Russell School, said: "It was great to welcome some past students back to Sydney Russell last week and to see how well they have done. 
"Their visit will inspire the Year 7s and show them what they can achieve in the future if they work hard. I would like to thank all the former and current students for taking part and being so enthusiastic. 
The school is hoping to expand its Alumni network and are planning on having a number of similar events before the end of the year. 
Councillor Evelyn Carpenter, Cabinet Member for Educational Attainment said: "Barking and Dagenham has great schools.  It is important that successful, former students have returned to pass on their knowledge to the next generation. 
"I hope the students of Sydney Russell learnt a great deal from the day and will use the experience to inform their choices about study areas and future careers."