Three for a fiver! Barking Market extends to Barking Station Parade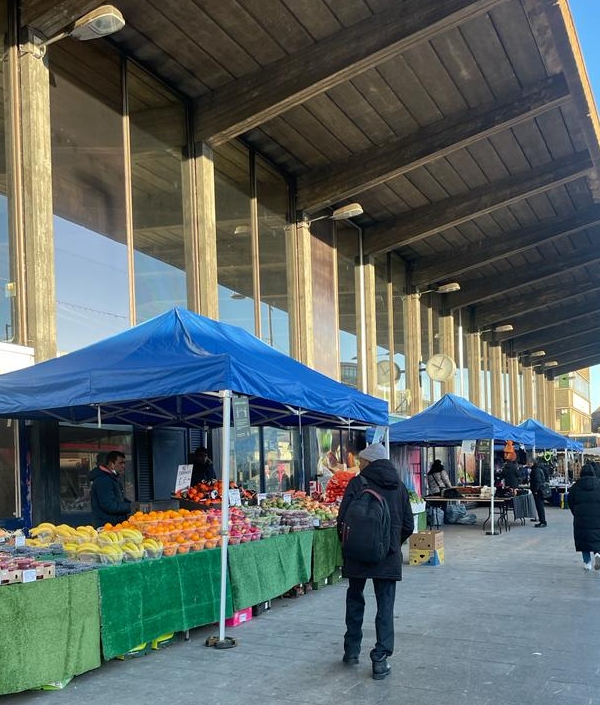 In its continued efforts to change the perceptions of safety and ease antisocial behaviour at Barking Station, Barking and Dagenham Council has extended Barking Market to the station parade in a trial run throughout December.

Earlier in the year, Barking Station was highlighted as a hot spot in a survey where the east London council asked women to highlight areas in the borough that they didn't feel safe.

The extension of the market to the station, which launched on Thursday 2 December, also follows the Police's Environmental Visual Assessment where it was agreed that stalls outside of the station would make the surrounding area feel safer for residents and commuters.

The market will be running on Mondays, Tuesdays, Thursdays, Fridays and Saturdays plus on Wednesday 22 December as part of the Christmas shopping week of trading and will be operating from 9am to 7pm.

Shoppers can expect to see stalls offering fruit and vegetables, gloves, hats and scarfs and potentially flowers.

Councillor Margaret Mullane, Cabinet Member for Enforcement and Community Safety said: "The safety of our residents is a number one priority for us, and we will continue to think of new ways to reduce antisocial behaviour and change people's perception of safety in Barking and Dagenham.

"Alongside the launch of the pilot with Street Space, we hope that the extension of the market will bring a sense of community outside the station and start to have a positive impact on residents and commuters as well as giving them the opportunity to pick up a bargain."

Last month, alongside Street Space, the council launched an eight-week pilot funded by the MHCLG (in full) looking to address perceptions of safety and antisocial behaviour outside the station, which included:
creating a platform for busking or arts performances and testing this at different times of the day, experimenting with a range of licensing and permission models to create a new sense of vibrancy to the station through shared experience and distraction
greening the station through innovative and community led methods and models to create a relaxing, inspired by nature atmosphere
commissioning local artwork for the station to add vibrancy, colour and energy to the space with the potential to bring a sense of local connection to the station  
The council is also doing lots to address resident's concerns, including increasing enforcement patrols, increasing CCTV and lighting in specific areas that have been highlighted by residents.

The initiative will be reviewed in the New Year to see if it should be continued.