Write On! 8 and Write On! Extra Anniversary Editions: Storytelling from East London to the world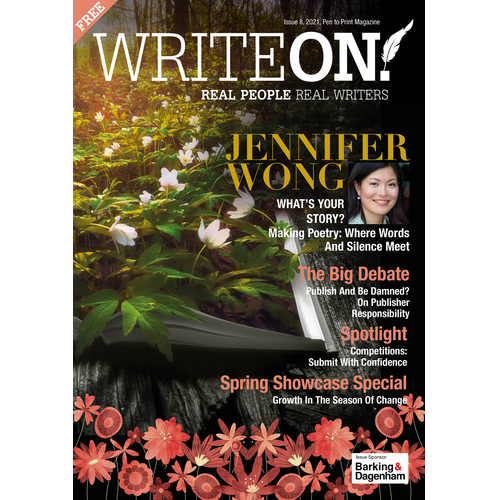 Write On! 8 is out now (digital version). April is a double header for Write On! – the publication that connects emerging and established writers to each other and the publishing industry. 
Two years ago, in April 2019, Arts Council England Library NPO (National Portfolio Organisation) and Barking and Dagenham Council supported Pen to Print, which started work on its first print magazine and, this time last year Write On! Extra was born online, sharing experiences, strength and hope for the unprecedented times we find ourselves. 
Issue 8 is themed around 'growth' and how we navigate Spring as the season of change and is available digitally and in print through libraries and other partner venues. Write On! are delighted their growth and reputation continues apace. You can check out past issues on their magazine page here.
With April being National Poetry Month, they are proud to feature award-winning Hong Kong diaspora poet, Jennifer Wong, as their lead interview. Issue 8 sees favourites such as The Big Debate getting an extra twist, not just by exploring publishing responsibility, but also by giving a student from new partners, the University of Derby, a chance to see work in print. 
It's fantastic that Write On! magazine has continued to publish great work and adapt in the way that it has throughout this last year
Write On! agony aunts and uncles continue to support other writers. This time in their quest to grow confidence and networks while the Spotlight page explores the best way to prepare for writing competitions. Showcase pages are once again drawn from work featured in the online digest Write On! Extra. Thanks to a partnership with the Rabbits Road Institute and their poet-in-residence, Gboyega Odubanjo, this issue also includes the popular free postcard gift.
Born in Barking and Dagenham, Write On! 8 is the fifth magazine of the pandemic and continues to shine a light on local people. Sponsored by the council 'Destination Barking And Dagenham' features artist Lesha Denise and Write Back founder, teacher Sam Norwood. 
However, they believe an inclusive community spirit, reaching beyond boundaries of place can create wider ripple effects around creative engagement and transparency. They are therefore delighted that Write On! Extra has encouraged 40,000+ people from 155 countries to respond to their ideals. To see examples of writers coming together beyond boundaries of geography, culture and expectations please see the pentoprint website.
Cllr Saima Ashraf, Deputy Leader and Cabinet Member for Community Leadership and Engagement, and Chair of the Pen to Print Advisory Panel says: "I am always excited to see the release of a new Write On! magazine issue. The latest issue focuses on the theme of 'growth', showcasing inspiring work from aspiring local writers to a wider audience. It's fantastic that Write On! magazine has continued to publish great work and adapt in the way that it has throughout this last year."